Maths challenge day - Shape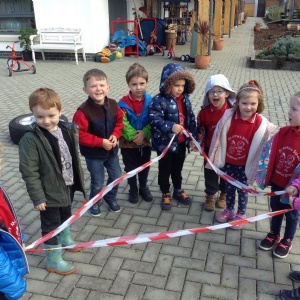 St Martin's School had a maths challenge day today linked to shape.
All throughout the school we had a day of exciting maths challenges linked to all different areas of the curriculum. There were so many practical learning activities where children had to think deeply about their challenge. Nursery were making and naming 2D shapes. Reception were making and naming simple 3D shapes using sticks and marshmallows. Year 1 went on a trip to Acorn. Year 2 were making and names 3D shapes and their properties linked to an alien invasion! Year 3 linked their Egyptian topic and investigated how many cubes were needed to make different size pyramids. Year 4 focused on measuring angles. Year 5 had the challenge to build nets to design buildings for a town and had to work out volume of the cubes. Year 6 linked to their History topic about the Neolithics and designed a hut, worked out the volume and scaled up their design to make the hut!
What an exciting day and the buzz of maths was all around school.